Axel Zwingenberger

www.boogiewoogie.net
Power House Boogie
Axel Zwingenberger an Piano, Cembalo und Celesta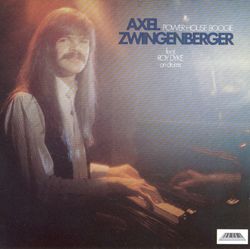 Power House Boogie

So viele schnelle Titel hat Axel für keine andere CD eingespielt! Erstmals auf einem Album alle Kompositionen von Axel Zwingenberger.

zum Teil mit Roy Dyke (dr)
aufgenommen im Mai + November 1979 in Hamburg
Titel:

1. Power House Boogie
2. Blue Movie Bounce
3. D & F Blues
4. Blues On The Dark Side
5. Celeste Call
6. Barrelhouse Shuffle
7. Almost Albert's Way
8. Hamburg Hangover
9. Dreaming In Boogie
10.Low Down Bugle Drag
11. Dance Of The Crazy Elves
12. Boogie Demonstration
13. Torpedo Jive
14. Thinking Of Dagmar & Felix
15. Harpsichord Flyer
16. Harpsichord Blues
17. Rocking The Harpsichord
18. Hammerchord
19. In The Shadow
20. Edsel Run Boogie

VRCD 8.80011
Im Online-Shop können Sie diese CD probehören und direkt bestellen. Bitte klicken Sie hier.