Axel Zwingenberger

www.boogiewoogie.net
Boogie Woogie Jubilee
Big Joe Turners Party zu seinem 70. Geburtstag an seinem Wohnsitz in Los Angeles live mitgeschnitten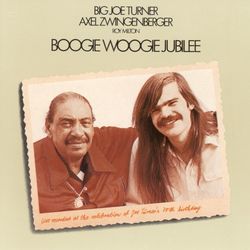 Boogie Woogie Jubilee

Die live-Partystimmung kommt so richtig gut rüber, wenn befreundete Musiker in die Session mit einsteigen: mit Big Joe Turner (voc), Axel Zwingenberger (p), Roy Milton (dr, voc), Eddie »Cleanhead« Vinson (voc), Margie Evans (voc).

aufgenommen am 23. Mai 1981
Titel:

1. Hide And Seek Boogie
2. Back Door Getaway
3. Chains Of Love
4. Flip, Flop And Fly
5. California Crawl
6. Cherry Red
7. St. Louis Blues
8. Boogie Woogie 'Round The Clock
9. Piney Brown Blues
10. Backyard Boogie
11. Back Door Getaway (2nd Version)
12. Boogie Woogie Jubilee
13. Cimarron St. Breakdown

VRCD 8.81010


Im Online-Shop können Sie diese CD probehören und direkt bestellen. Bitte klicken Sie hier.