Axel Zwingenberger

www.boogiewoogie.net
The Boogie Woogie Album
Axel Zwingenberger mit Lionel Hampton und seinem Orchester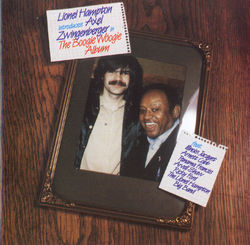 The Boogie Woogie Album

Nachdem der große Bandleader Lionel Hampton Axel Zwingenberger für eine Europatournee engagiert hatte, war es klar, daß eine Platte folgen mußte. Die swingenden Bigband- Aufnahmen werden ergänzt um einige Stücke in kleinerer Formation.

Mitwirkende: Lionel Hampton (vibes, p, voc), Axel Zwingenberger (p), Arvell Shaw (b), Panama Francis (dr), Irvin Stokes (tp), Illinois Jacquet (ts), George Kelly (ts), Sam Hurt (tb), The Lionel Hampton Big Band: John Marshal (tp), Barry Reis (tp), John Walker (tp), Vince Cutro (tp), Arnett Cobb (ts), Ricky Ford (ts), Yoshi Malta (as), Tom Chapin (as), Glenn Wilson (bs), John Gordon (tb), Charles Stephens (tb), Chris Gulhaghuen (bass tb), Ralph Hamperian (b), Duffy Jackson (dr), Sam Turner (perc);
aufgenommen im Januar 1982 in New York City und im Mai 1982 in Doorwerth/NL.

Titel:

1. Graffiti Express
2. Rolling Slow
3. Central Avenue Breakdown
4. Whisky Blues
5. Mr. Freddie Blues
6. The Sheik Of Araby Boogie
7. New York Shuffle
8. Central Avenue Breakdown (2nd Version)
9. Jivin' In Jazzland
10. Hamp's Boogie Woogie
VRCD 8.88008

Im Online-Shop können Sie diese CD probehören und direkt bestellen. Bitte klicken Sie hier.