Axel Zwingenberger

www.boogiewoogie.net
Boogie Back To New York City
Livemitschnitt von Axel Zwingenbergers erstem Solokonzert in New York City, April 1995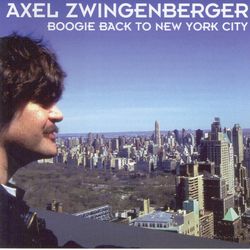 Boogie Back To New York City

Die Atmosphäre des zum Jazzclub mutierten Art Deco Ballsales und das enthusiastische Publikum animieren Axel zu einem pianistischen Höhenflug!

Titel:

1. The Fives
2. Thundertrain
3. Groovy Gotham
4. Boogie In The Weeds
5. Long Lost Love
6. Madhattan Boogie
7. Snowflake Dance
8. Steel Dragon
9. St. Louis Boogie Blues
10. Cow Cow Blues
11. Five Spot Stomp
12. Boogie Woogie Stomp
13. Low Lights
14. Swanee River Boogie
VRCD 8.96022


Im Online-Shop können Sie diese CD probehören und direkt bestellen. Bitte klicken Sie hier.