Axel Zwingenberger

www.boogiewoogie.net
Brothers In Boogie
Brüderliches Zwiegespräch in Boogie und Blues von Axel Zwingenberger am Piano und Torsten Zwingenberger am Schlagzeug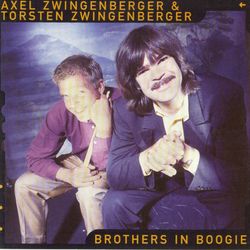 Brothers In Boogie

Diese Aufnahmen sind in der Klausur von Torstens Studio entstanden - ohne Druck, ohne Einfluß von außen - ein Streifzug durch 25 Jahren gemeinsamen Musizierens.

aufgenommen im Oktober 1997 in Berlin

Titel:

1. Brothers In Boogie
2. Boogie-Mom & Woogie-Dad
3. Grandma's Stride
4. Johnny's Jumpin' Latin Joint
5. Long Lost Love
6. Champ Of Charme
7. H. M. Hop
8. Cooney's Cornet
9. Pinetop's Boogie Woogie
10. Rolling For Big Joe
11. Mo' A-Beat
12. African Groovin'
13. Low Lights
14. To Those Who Love These Blues
15. Fish Head Boogie
16. Rockin' The Philharmonic
17. In A Möller Tone
VRCD 8.99025

Im Online-Shop können Sie diese CD probehören und direkt bestellen. Bitte klicken Sie hier.