Axel Zwingenberger

www.boogiewoogie.net
Vol.4 'The Blues Of Mama Yancey'
Axel Zwingenberger und Bluessängerin Estella »Mama« Yancey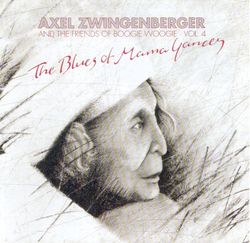 Vol.4 'The Blues Of Mama Yancey'

Die Bluessängerin Estella »Mama« Yancey, die Frau des »Vaters des Boogie Woogie«, des Pianisten Jimmy Yancey, war als eines der letzten Originale der »House Rent Party«-Bluesszene eine lebende Legende in Chicago. Axel Zwingenberger hat mit ihr dort 1982 und 1983 Aufnahmen gemacht.
Titel:
1. Make Me A Pallet On The Floor
2. How Long Will It Be
3. Monkey Woman Blues
4. Crying In My Sleep
5. Stella Yancey Blues
6. Blues At The Burying Ground
7. Chicago Melodie
8. Midnight Plea
9. 2.19 Blues
10. Santa Fé Blues
11. Weekly Blues
12. Four o'Clock Blues
VRCD 8.88009
Im Online-Shop können Sie diese CD probehören und direkt bestellen. Bitte klicken Sie hier.
Diese CD ist Teil der Serie »Axel Zwingenberger And The Friends Of Boogie Woogie«. Sie zeigt Axel Zwingenberger in Zusammenarbeit mit bedeutenden Künstlern des Blues, Boogie Woogie und Jazz. Bisher sind 10 CDs in dieser Serie erschienen, sie wird fortgesetzt…