Axel Zwingenberger

www.boogiewoogie.net
Vol.8 'Heat It Up!'
Saxophonist und Sänger Red Holloway mit Axel Zwingenberger und der Mojo Blues Band.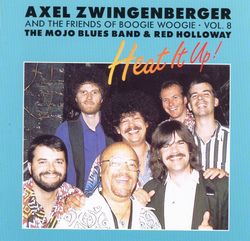 Vol.8 'Heat It Up!'

Swingender Rhythm And Blues, rollender Boogie Woogie und groovender Blues mit dem großen Saxophonisten und Sänger aus Kalifornien, Red Holloway! Er wird begleitet von Axel Zwingenberger und der Mojo Blues Band.
Boogie Woogie-Tänzer lieben dieses Album!
Axel Zwingenberger (p), Red Holloway (sax, voc), Erik Trauner (voc, g), Christian Dozzler (voc, harp, accordion), Markus Toyfl (g), Dani Gugolz (b), Peter Müller (dr);
aufgenommen im Juli 1992 in Wien, Jazzland

Titel:

1. Heat It Up!
2. Smack Dab In The Middle
3. The Hoochi Coochi Coo
4. Hoodoo Man
5. Ooeeh Train
6. The Boogie Hop
7. Let Her Go
8. Summer Breeze Boogie
9. Ramblin' In Your Dresser Drawers
10. Papa Wants To Knock A Jug
11. Dream Train
12. Barrelhouse Women
13. Fried Buzzard
14. Ice Cream Freezer
15. Chasing Chicken
16. Closedown
VRCD 8.93019
Im Online-Shop können Sie diese CD probehören und direkt bestellen. Bitte klicken Sie hier.
Diese CD ist Teil der Serie »Axel Zwingenberger And The Friends Of Boogie Woogie«.S ie zeigt Axel Zwingenberger in Zusammenarbeit mit bedeutenden Künstlern des Blues, Boogie Woogie und Jazz. Bisher sind 10 CDs in dieser Serie erschienen, sie wird fortgesetzt…