Axel Zwingenberger

www.boogiewoogie.net
Vol.9 'Red Hot Boogie Woogie Party'
Axel Zwingenberger live feat. Red Holloway & The Mojo Blues Band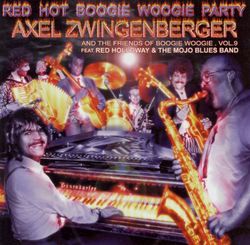 Vol.9 'Red Hot Boogie Woogie Party'

Die »Dream Combination« Red Holloway-Mojo Blues Band-Axel Zwingenberger live! Die Boogie Woogie- und Bluesparty!! Mitmachen!!! Tanzen!!!

mit: Red Holloway (tenorsax, voc), Axel Zwingenberger (p), Erik Trauner (voc, g), Christian Dozzler (voc, harp, accordion), Markus Toyfl (g), Dani Gugolz (b), Peter Müller (dr), Michael Hudec (b), Michael Strasser (dr);

aufgenommen live im Jazzland Wien, Juli 1992.

Titel:

1. Soulfood Jive
2. Heat It Up!
3. Cool It Down
4. Barrelhouse Women
5. Check It Out
6. Slow Mother For You
7. Brush'n' Up Boogie
8. Red Hot Boogie Woogie
9. Papa Wants To Knock A Jug
10. So Long To The Party
VRCD 8.99024
Im Online-Shop können Sie diese CD probehören und direkt bestellen. Bitte klicken Sie hier.
Diese CD ist Teil der Serie »Axel Zwingenberger And The Friends Of Boogie Woogie«. Sie zeigt Axel Zwingenberger in Zusammenarbeit mit bedeutenden Künstlern des Blues, Boogie Woogie und Jazz. Bisher sind 10 CDs in dieser Serie erschienen, sie wird fortgesetzt…